I served as the VP of Communications at Agloves and wore a lot of hats. Some of the things I worked on include:
Creative direction for all promotional materials, video, photo, POP, web, social…etc.

Design and creation of promotional materials
UI/UX and wire frames for 3 full site overhauls
SEO development and maintenance (we had nine of the top ten searches for "touchscreen gloves" etc)
POP conception, development, manufacturing
Brand strategy
Social strategy
Digital personality
Trade show organization, booth decoration, logistics, and also ran the booths
Video production
Video casting
E-blasts for customers
Developed promotional coupons throughout the year
Tracked site analytics
Tracked ROI for various, simultaneous promotions/coupons
Daily deals
Here are some screen shots of things I worked on:
Web design, UI/UX
I was the creative lead director and UI/UX lead on three web site overhauls. This included wire frame development, communication with designers, photography and visual development of site, as well as SEO.
Package Stuff-ins for delivered product
These were seasonally based. We attempted to give our customers something they could get excited about when they opened their package. [/project]
Daily Deal Sites
I utilized daily deal sites to seed our market and create buzz as the winter season rolled in.  Used this tool in a powerful way to save marketing budgets (in fact add to them!) and get the word out about product.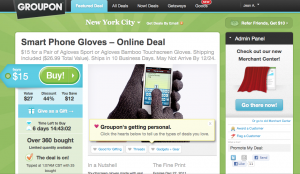 Seasonal Promotions and Coupon Codes
I was in charge of strategically running coupon codes and promotional sales throughout the year in both the U.S. and Europe.  Often this dovetailed with a cultural item such as a holiday or major political change.
Content Creation
I was in charge of developing original, fun content to populate our website, social spheres and keep our brand fresh.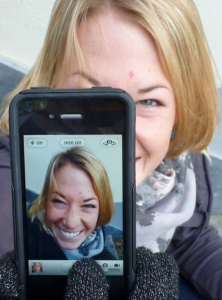 Sales tools, documents and collateral
I developed several of our sales tools or communications pieces from conception, copy writing, printing, and distribution to key sales associates or distribution channels.
Packaging
I served as the creative lead director in product packaging. This is a Point of Purchase sign developed as a tool for in-store sales. Jacob Midgett was our primary graphic designer.